Gym Disinfecting Solutions
VANCOUVER, BURNABY, NEW WESTMINISTER, RICHMOND, SURREY, LANGLEY, DELTA
Fitness Centre Disinfecting Services
There is probably no greater breeding ground for germs, bacteria, and viruses than the local gym. There is probably no place with a bigger reputation among the public for risk of infection, than a gym. Sanitation and disinfection are of paramount importance to keeping your gym business running and your clients feeling safe and healthy.
Every piece of equipment is touched, sat on, or rubbed up against, leaving sweat, that has traditionally been left up the last person using that equipment, to wipe down. Sometimes they do a marginal job, other times not at all. Recently this practice has been deemed undesirable. Then there's the carpet, which endures constant foot traffic all day and all evening. Statistically, the largest spread of germs is fitness equipment, water fountains, locker rooms, and bathrooms, at a rate of 80%.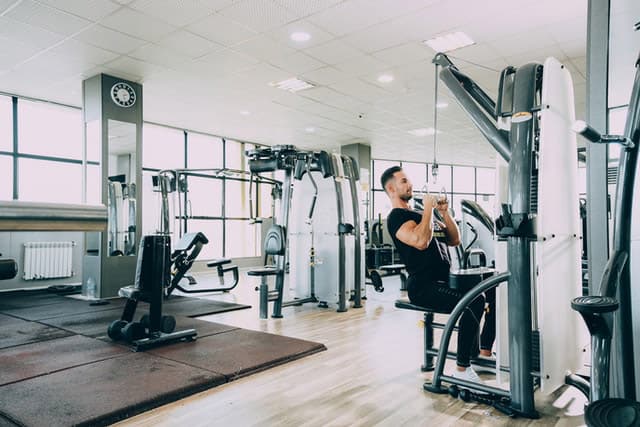 Keeping a Gym Healthy
It seems ironic that the very place you go to stay healthy can be the very place that puts you at high risk of jeopardizing your health. So, it is clear that trained professionals now have to be an integral part of any health club or gym sanitation. A gym's business and reputation depend on customers feeling safe about being a member or joining. The more that customer sees that the owners and staff have structured a system for keeping everyone disinfected and safe, the more comfortable they will be with maintaining their membership. Prospective members want to see that your facility disinfecting program is fully in place before they join.
Daily cleaning and sanitizing are a must, and not just a quick wipe-down by the members using the equipment, anxious to get to their next exercise, but a team dedicated to regular sanitation and disinfection. It has now become part of the operating expense.
National Clean Solutions Gym Sanitizing
Here are some considerations for keeping a gym a place for members to actually stay healthy:
The locker room/restroom, environment
This is possibly the most difficult area to deal with, but also the most critical. Your professional cleaning company can scrub the water stains, mould, and soap scum, and sweat, etc., from the grout, the bathroom floors, the lockers, the toilets and urinals, the showers, the sauna, and the sinks.
Disinfectants free of toxins
A great preventative measure is to wipe everything down several times a day with a non-toxic disinfectant. Customers or staff members may have various sensitivities to chemicals, so be cognizant of everyone's health.
Keep wipes handy
Readily available sanitizing hand and equipment wipes located at every station is a great extra measure. This encourages a continual and easy wipe-down of the equipment. Post policy signs and encourage people to use the wipes before and after using a piece of equipment.
Unpleasant odours
If you are in the facility all the time, you may not notice as much odour, but people walking in from elsewhere do. The cause of this odour comes from the same sources that you need to regularly disinfect. Allergens are also in the air. They may come from the carpet. Use a high-powered vacuum to suck that up every day.
National Clean Solutions Keeps Your Health Club Healthy
Now more than ever, for the professional sanitizing of your gym, National Clean Solutions is your best choice. National Clean Solutions has been the professional cleaning company of choice by business owners and property managers for many years, gyms and fitness centers among them. We have maintained a reputation for exacting professionalism.
Contact us to keep your health club healthy.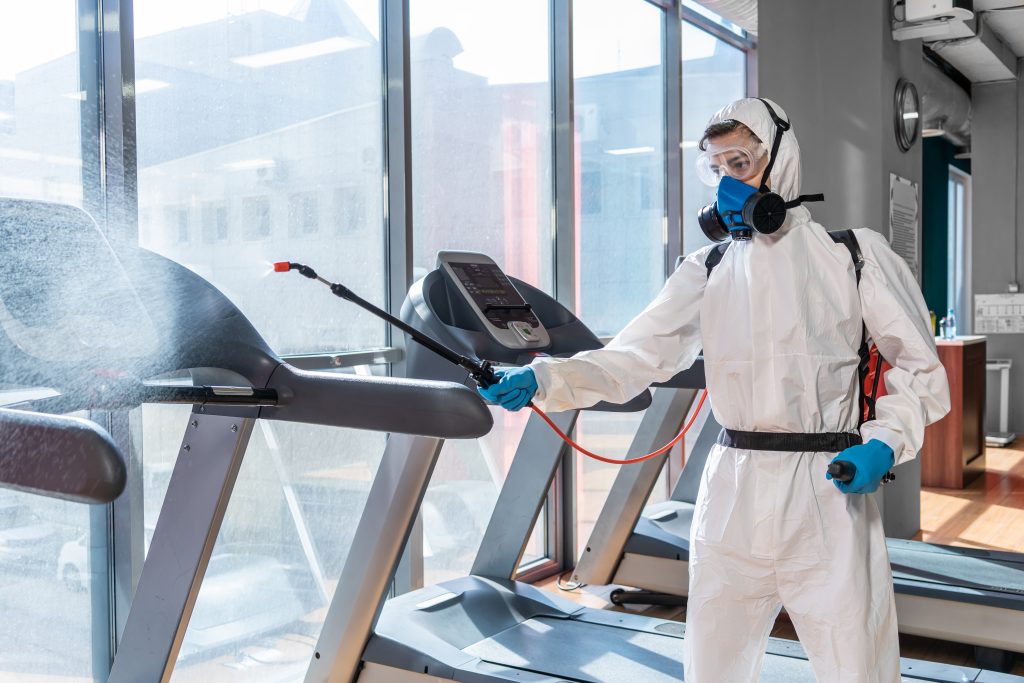 FREQUENTLY ASKED QUESTIONS
What services do you provide?
At National Clean Solutions, we provide:
Disinfecting ( COVID-19) Services include

Restaurant Disinfecting,
Office Disinfecting,
Retail Disinfecting,
Medical Clinics Disinfecting,
Gym Disinfecting,

Pressure Washing,
Soft Washing,
Window Cleaning,
Gutter Cleaning,
Real Estate,
Strata Services.
Yes, we are insured. NCS has a $2 million liability policy and workers are covered by WorkSafe BC
What includes a whole cleaning process?
Our main cleaning process consists of 3 parts:
Evaluation
Method Decision
Action
Are your products eco-friendly?
Yes, we care about the environment and choose eco-friendly products.
What safety measures are taken during a cleaning service?
NCS uses advanced systems to keep workers' feet safely on the ground in most cleaning applications. Besides cleaning your property our main concern is doing so safely for your belongings and our workers.
What do I need to prepare before the cleaning?
Nothing at all! Relax, we do all the heavy lifting but if there are specific things we need your help with prior to our cleaning we will include them in our proposal.
What is your availability?
For many services, we can schedule you within 14 days however we are available for emergency spills and interior disinfecting after hours and on weekends.
How long would it take to get an estimate from National Clean Solutions?
We do our best to set up estimated appointments within 2 days and quote you the same day. Larger projects may take a bit longer to quote but we will likely be the first back to you with a complete and realistic estimate for professional services.
We take cash, e-transfers, and credit cards. We can also invoice you for mobile-based payments.
Do I need to be present during the cleaning?
We don't require you to be present during the cleaning. However, if you are, please do a walk-through with our cleaners before they start and after they finish to ensure everything is up to your standards.